Cart Fillers Compared: Manual
FillAdmin
Hey everyone! Today we will be comparing five of the industry's best manual cart filling machines. There are so many options to choose from! We've collected the most relevant data and displayed it in graphs just for you. We're going to highlight price, carts per hour, reservoir capacity, and even a production cost calculation. After that, we'll look at each filler individually. First, let's see what our lineup looks like.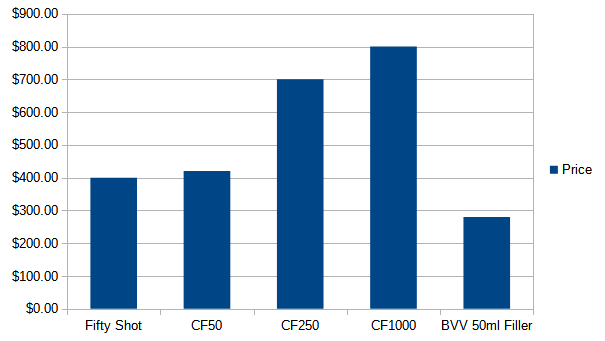 You don't have to tell us how big of a factor affordability is! Every filler on this list is extremely affordable, especially when you take their output into consideration. Speaking of output, let's look at another important facet of cart filling machines.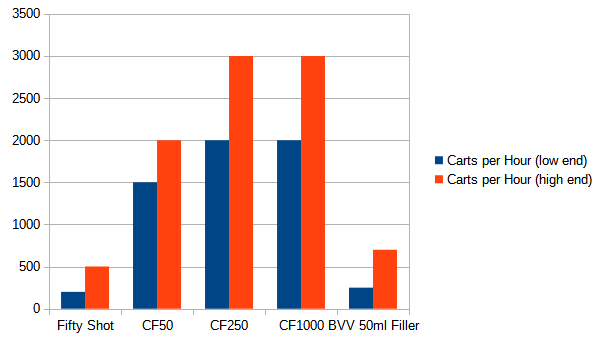 No matter how big your operation is, carts per hour is a determining factor in how much it will cost you to fill those carts. This will be a huge part of the production cost calculation, as you'll see below.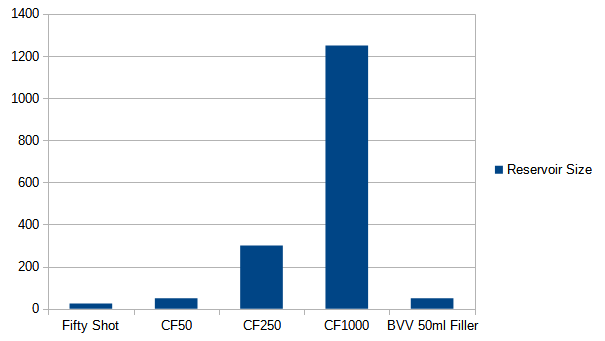 The larger the reservoir, the fewer times an employee needs to stop their task to refill it. This increases the efficiency of the filler.
Cost Per 250,000 Carts Produced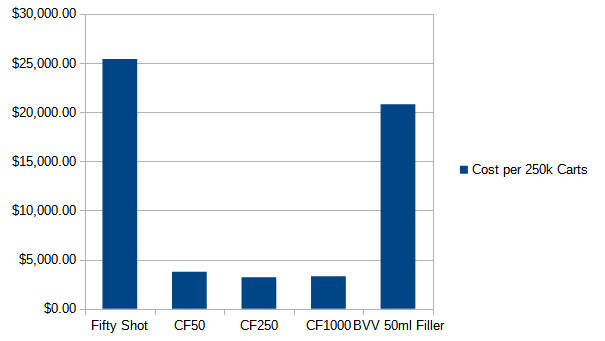 Our methodology behind this calculation is simple. We first take 250,000 carts and divide them by the low end of the approximate carts per hour. We then multiply that number by the cost of an hourly employee's wage ($20/hr). The new number represents how much it would cost to pay an employee to fill 250,000 carts. We then add the price of the cart filler to this estimation, as most cart fillers last around that long before needing maintenance. Here's an example of the formula with the Fifty Shot: ((250,000/200)x20)+400=$25,400.
| | | | | |
| --- | --- | --- | --- | --- |
| Filler | Reservoir Size | Carts per Hour | Price | Cost per 250k Carts |
| Fifty Shot | 25 | 200-500 | 400 | $25,400 |
| CF50 | 50 | 1500-2000 | 420 | $3,753 |
| CF250 | 300 | 2000-3000 | 700 | $3,200 |
| CF1000 | 1250 | 2000-3000 | 800 | $3,300 |
| BVV 50ml Filler | 50 | 250-700 | 280 | $20,800 |
| | | | |
| --- | --- | --- | --- |
| Filler | Accuracy (MG) | Reservoir Material | Line Material |
| Fifty Shot | 100 | Plastic | – |
| CF50 | 5 | 304 SS | – |
| CF250 | 5 | 304 SS | FEP |
| CF1000 | 5 | 304 SS | FEP |
| BVV 50ml Filler | 100 | Plastic | – |
Cart fillers are always looking for the best new carts to fill. Variability in cart size is found in this constantly changing cart market. Both the Fifty Shot and the BVV 50ml Filler can fill in increments of .5ml. All three cart farmers fill volumes of .2 to 2ml in 0.025ml increments. This gives a lot of flexibility in options when looking for new carts. Materials are another important factor in your cart filler. Both the reservoir and the line material must be made of a material that won't leech into the reactive oils found in most filler's mixtures. You do not want plastic to contact your oil at any time.
Let's look at each filler individually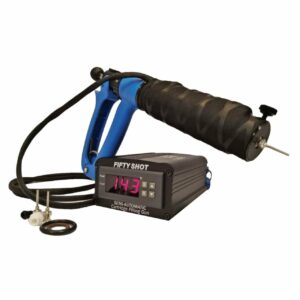 The Fifty Shot is a relatively reliable filler that won't break the bank. It's also very simple to use. However, it has a few flaws that must be highlighted. The first issue is with the reservoir size. A 25ml reservoir means if you want to fill even 100 1ml carts, you will be filling that reservoir 4 times. With a lifetime of about 250,000 carts, that is 5,000 to 10,000 reservoir fills. The second con is its carts per hour. The dispensing mechanism is cumbersome which combined with the reservoir size tanks the hourly cart output.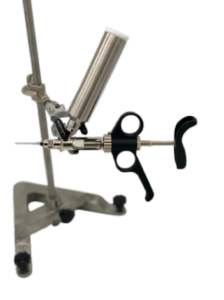 The Cart Farm CF50 is only $20 more than the Fifty Shot. Notice the difference in carts per hour. This is because of the design of the HSW Unimatic dispenser and its location relative to the reservoir. The reservoir is twice the size of the Fifty Shot and is capable of filling carts over 3 times faster. You also get stainless steel where it matters. No more plastic touching your oil.
Cart Farm CF250 and CF1000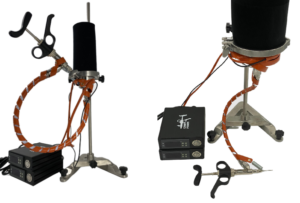 The CF250 and the CF1000 are Cart Farm's flagship cart fillers and are not much different from each other. Just like the CF50, they have a stainless steel reservoir. They also feature a temperature controller for the fep tubes, added for ease of use. Both of their reservoirs are large enough to handle multiple 100-racks of carts before needing to be refilled. This upgrade allows for both the CF250 and CF1000 to cost less per 250,000 carts than the CF50!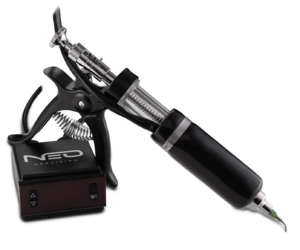 The BVV 50ml Filler is much like the Fifty Shot. It has a plastic reservoir with the same style of dispensing mechanism. It delivers around the same output as the Fifty Shot for a little over $100 less.